Aviation II
2017
A High School Aviation Program Emphasizing Navigation.
Individually Scheduled Activities
Sep 17-29 — Flight Simulation experience: Piloting
Oct 8-20 — Flight Simulation experience: Navigation.
Oct 15-27 — Flight Day at Northampton: Each student on teams of three follows one leg of their flight plan developed in the classroom.
Oct 23-27 — Engineering Shadow Days: Field Trip to UTAS and/or Sikorsky.
STEM education is reinforced through an in-depth visit to a facility like Students shadow engineers in their facilities for a day and are able to observe engineers using Computer Aided Design (CAD) programs and discussing how to solve design problems.
Classroom Sessions
Sep 16 — Review of Aerodynamic Principles
Instructional videos to watch:
Basic Aerodynamics – CG and Stability
Ground School: How to read a VFR Sectional Chart | Basic Chart/Map …
What allows aircraft to fly and how they are controlled [B1 – B13, B28 – B36]
Pilot Licenses, ratings, FAA certifications [F1 – F19]
Navigation chartes and symbols, true and Magnetic north orientation, airways and intersections [J1 – J16, N11 – N20]
VFR pilotage and dead reckoning [K1, N9]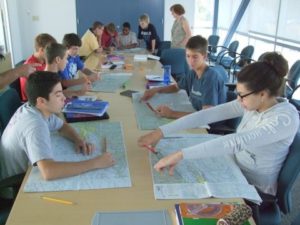 Sep 23, Sep 30, & Oct 7 — Cross Country Navigation
Instructional videos to watch:
Private Pilot-Plotting a Course – YouTube
Private Pilot Tutorial 15: Navigation (Part 1 of 4) – YouTube
Measuring True Course – YouTube
VFR Nav Log (Video 1) Determine Route and Checkpoints – YouTube (watch all eight videos)
How to Use the Manual E6B Flight Computer
E6B Flight Computer. Time, Speed, & Distance – MzeroA Flight Training
Ground School: E6B Wind Correction Angles | How to calculate Ground Speed, WCA, Magnetic Heading – YouTube
Weather briefings for pilots and flight service stations [M1 – M9]
Plotting courses, measuring direction, distance, time, fuel burned [N31 – N34]
National airspace and places you can and cannot fly [I1 – I36]
Teams create a cross country trip by selecting a destination, routes, and waypoints
Using plotting tools, charts, aircraft performance tables and winds [N9 – N24]
Creating a flight log [N10]
Communications, radio rules, talking to the tower and ATC [H1 – H8]
Radio navigation including VOR/DME and GPS [K1 – K27]
Oct 14 — Rotary Wing Aircraft – Helicopters
Instructional videos to watch:
How a Helicopter Flies- an interactive introduction (part 1) – YouTube (view both videos)
Helicopter Flight for Beginners
What allows helicopters to fly
How are they controlled
Oct 21 — STEM Engineering Careers & Aviation Physiology
Career opportunities
Educational requirements
Spatial disorientation and hypoxia
Vision and G-force limitations
Oct 28 — MA National Guard Aviation/STEM Careers/Planning for Your Future
STEM Careers
Planning your future
Opportunities to fly in Air and Army National Guard
Presentation of flight certificates